Custom production of Cotton fibres or cotton blend fabrics for technical applications
Fabrics are obtained from long stable fiber yarns in medium high counts to guarantee technical properties such as strength, elongation and adhesion in combination with polymer-base mixes. Fabrics are available in different weights, widths and constructions. They are characterized by finishing treatments specific for their application in the offset and digital printing industry. Polyester/cotton blend fabrics can be compression molded into composites without the need of plasticizers or additional matrix or reinforcing materials. Lear more
High-tenacity polyester fabrics
Their main application purpose is the conveyor industry. These fabrics can be as wide as 3,20 meters and are woven on rapier looms. They are equipped with carbon inlets, which prevent static electricity built up by friction against metal surfaces. These are heavy-weight, remarkably long and high tenacity fabrics. Lear more
Multi filament polyester fabrics
Thesepolyester fabricsare characterized by excellent tenacity and resilience, high abrasion resistance, heat and crease resistance, high elasticity module and very low humidity recovery as well as good resistance to chemical and physical agents. 0.10 mm low gauge fabrics to be bonded with rubber to produce membranes. Lear more
Custom production of Para-aramid fibers
Aramydic multi-filament and discontinuous fiber fabrics. They combine extreme robustness with a very light weight. They prove to have higher resistance than steel when the same load is applied. Available in regular and antistatic version. Lear more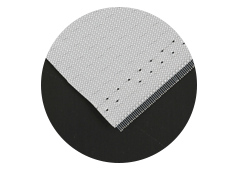 Meta-aramid fibers
Multi-filament and discontinuous aramid fiber fabrics. Flame-resistant products offering elasticity as well as an excellent dimensional stability. The resistance to flexion of meta-aramydic fabrics is unsurpassed in high temperature processing cycles. Lear more
Nylon fabrics
Nylon fabrics provide abrasion resistance as well as wear and tear resistance. This fabric is very light and cost effective. It offers good water resistance and can dry quickly. It also provides good wind protection.Nylon fabricscan be used for filter screens, seat materials, substrates, mesh pockets, cargo netting and other automotive applications. Nylon mesh fabrics are characterized by high tensile strength, dimensional stability, heat resistance, chemical resistance and elasticity. They are suitable for filtration, marine, healthcare and recreational equipment applications. Lear more
Production process
Strict control and punctual delivery allow Technofabric to be a reliable partner, deeply involved in complying with the customers' requirements. We cooperate with our clients in production, research and development aiming at obtaining a totally customized product.
1
YARN PREPARATION
Winding, warping and sizing
2
WEAVING
Two departments are dedicated to weaving on the most sophisticated looms
3
FINISHING
We use modern sophisticated high-technology machinery for different finishing treatments and apply the most advanced information science systems in order to comply with the requirements of a more and more exacting customer base.
© Realizzato da Sistemi Cuneo
TECHNOFABRIC S.p.A. | Via Bisognetta n. 10/12 12024 Costigliole Saluzzo (CN) | Tel. +39 0175 238700 | Fax +39 0175 230920 R. Imprese di Cuneo - P.IVA | Codice Fiscale: 01708800048 | R.E.A. n° 132441 C.C.I.A.A. Cuneo | Capitale sociale € 3.380.000,00 i.v. | e-mail: staff@technofabric.com